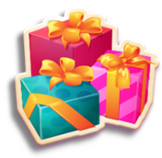 We all know boosters help with those sticky tricky levels. How about a way to pick some up for free, doing what you already do so excellently?
Treasure Road is just that! A reward for your epic progression through the levels in Candy Crush Soda Saga.
On your map screen a gorgeous gift box will appear in the levels ahead. Make it to the gift and pass the level to open the box to receive your reward. Sodalicious!
How does it work?
When it's active in your game, you'll see different colored wrapped presents placed on level buttons ahead of your current position on the game map. There is a timer, telling you how long you have to reach the present in order to win the treat inside. Committed players can sweep up some super-sweet treats!
How do I take part?
Just play your game as normal! Prizes are on the normal map screen, so when it's active you'll see them. There'll also be a pop-up from time to time to tell you where a prize is active, so you can plan your progress to meet the time frame.
When will I see it?
As with our challenges and events, they're not set by a schedule or calendar. Sometimes they do fall into a pattern, but this is usually coincidence rather than design. We like to keep things varied and fun - so keep checking your game and notifications from time to time and jump on in!
What if others can play it and I can't?
In order to keep the Treasure Road accessible and available for everyone, sometimes you might have access to it and your friends may not, or vice-versa. This is so that everyone gets to play.
Keep in mind, you may have it when they don't too - so jump in whenever you get the chance.