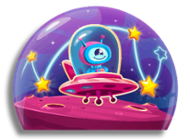 Zipping around the universe in his flying saucer is Allen's favourite thing to do, seeking out new things to marvel at. A cluster of toffee asteroids or some sugary rings around Saturn, perhaps? There's so much to see!
Thanks to his travels, Allen has become quite the star expert, and he wants to collect them.
This is where you come in!
How does it work?
Whenever you pass levels you collect 1, 2 or 3 stars - visible on the level label on the map screen.
Playing new levels or replaying new levels for more stars will count toward your star total and help Allen's collection. Play your latest level or perhaps go back to a previous level to see if you can improve on your achievement.
How do I take part?
To take part, just play the game when the challenge is active in your game. No special map, rules or techniques for you to worry about. Just keep on the lookout for the chance to score extra stars by completing levels.
As you play, your scores will be updated on the leaderboard so you can see how you're doing. To win the final boosters you'll need to be right up there in those top ranks!

When will I see it?
As with our challenges and events, they're not set by a schedule or calendar. Sometimes they do fall into a possible pattern, but this is usually coincidence rather than by design. We like to keep things varied and fun - so keep checking your game and notifications from time to time and jump on in!
What if others can play it and I can't?
In order to keep Allen's Star Chase accessible and available for everyone, sometimes you might have access to it and your friends may not, or vice-versa. This is so that everyone gets to play. Keep in mind, you may have it when they don't too - so jump in whenever you get the chance.