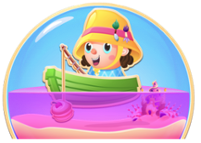 Our candy sweetheart Kimmy has taken to the water in the search for the playful Swedish Fish!
How can I join in?
While the Kimmy's Gone Fishing challenge is running, you'll be rewarded one point for any fish you create in the main game. There are no separate levels or map to follow with this event, so you'll be increasing your haul while you make light work of the main game levels.

Creating fish is as easy as matching four candies in a 2 x 2 square pattern. This will add a fish to your total collection and count toward Kimmy's goals. Each fish you create will also take away one piece from your board as you're playing when you match it, so keep matching to maximize your haul.
But take care! If you fail the level or exit the game before the level is passed, you'll lose the fish you've caught for that level. Make sure you reach the last move to be certain of keeping your catch.
Better still, if you catch fish in your current furthest level of the game you'll get a bounty of +10 points for each fish. What a whale of a win!
When will I see it?
Kimmy's Gone Fishing will appear from time-to-time in the game and not by a set schedule. Keep a look out for notifications and the button on the map screen and when you see it, jump on in!