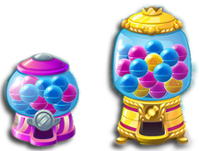 Gumball Goodies are a great way to collect free goodies for your game, to help you pass those challenging levels with a bit of extra help.
When can I get them?
You'll get a random chance of free Gumball Goody rewards from the machine at regular intervals, so once you've received the complimentary rewards, you'll find there's a 'cool-down' period before you can claim your next delivery.
If you'd like to cut the wait time before the delivery, but also increase the number of Gumballs you'll receive, you can take the option to buy a turn of the machine - which will deliver a higher number of gumballs AND a higher chance of them carrying a greater value.
What's inside?
By tapping the 'i' symbol next to each Gumball machine, you'll be shown the chance rates of receiving the different colored balls and their likely contents. You'll find boosters, time delivered boosters and also there are some unlimited lives mixed in there too. Plenty of opportunities!
Where is it?
Located at the top of the game map screen, you'll see a trio of mystery gumballs. Tap it to open the screen to the free and paid machines and take your chance to win boosters, timed boosters or maybe even some unlimited lives!
Now all there is to do is 'chews'!! :D